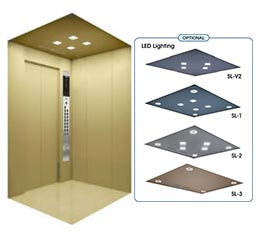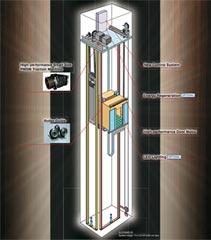 When it comes to elevators, the Japanese multinational, Toshiba is one of the world leaders. We mark an edge over our competitors by providing a unique selling product which no other company offers, yes, the fastest elevators in the world*.

We value your time and being lift manufacturers we have touched the sky with unmatchable speed of 1010 meters/min i.e. 16.8 meters/sec. There is more to it as this high speed is achieved smoothly taking into consideration the safety of the users. All the components and materials used are of high quality, tested and are build using proven techniques. Safety is our highest priority and we do not believe in compromising on the quality which has helped us to maintain lower maintenance cost and long term service to the customers.

Toshiba elevators are crafted with minute details, state of the art design and cutting edge technology. We have a variety of elevators that serve according to the requirements, such as the compact machine room type passenger elevators that can be used for all types of residential or commercial structures. Or the machine room less type passenger elevators, known as SPACEL-III which comes with an added advantage of not having to build a separate machine room for placing the traction machine, thus helping in reducing the cost and space.

In order to cater the ever-increasing need of high-speed mobility, Toshiba also has a full range of its high speed elevators , known as "New-Elbright" which can travel at a maximum speed of 4 meters/ sec. Toshiba believes in providing overall vertical transportation solution to a building and for which we expertise in designing tailor made elevators which suit perfectly be it residential, commercial, institution, hotel or an hospital. This makes Toshiba, one of the most preferred supplier of high quality elevators in India. Get in touch with us to know more, our executives are in attendance for your service.