CONCEPT of SPACEL-?
Toshiba manufactures elevators by applying the latest technology and improved elevator development skills. SPACEL-?, the most recent high-end machine-room-less elevator which incorporates various technologies to save energy and time contributes to global environment.
Product Line-ups
SPACEL-? is well-suited to office buildings and apartments by the compact designed machine-room-less elevator.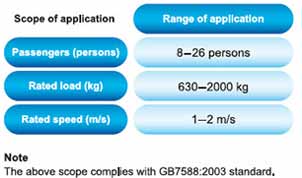 New Technology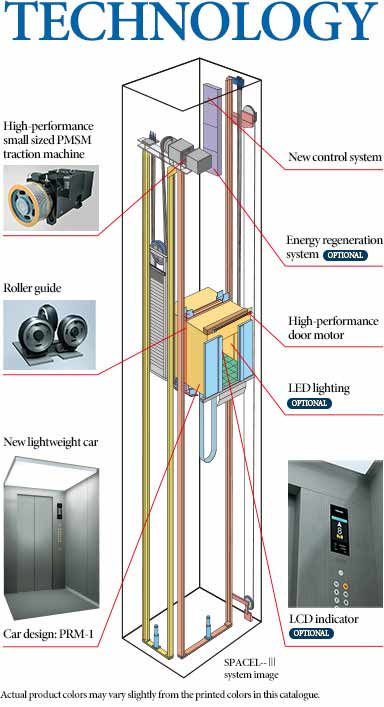 Traction Machine Designed and Manufactured by Toshiba
Toshiba has manufactured motors for over 100 years since 1895. The motors produced by Toshiba promise better quality assurance and quality control.
Compact PMSM (Permanent Magnet Synchronous Motor) for space saving.
Over 30% less power consumption (compared to conventional electric motor).
Gearless traction without gear oil for low vibration, low noise and better environmental conservation.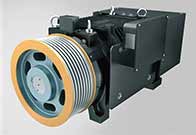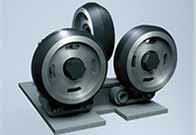 Use of Roller Guide
A roller guide is used instead of a conventional sliding guide shoe. Features include:
Comfort: Using the successful vibration damping solution from the high-end elevator type, riding comfort is further improved after roller guide is mounted on the car.
High efficiency: Visible improvement of the mechanical efficiency with lower friction and energy consumption.
Environmental conservation: Lubrication oil and lubrication unit are eliminated and replaced by a long-life rubber roller to reduce environmental pollution.
New Control Systems
A high performance CPU is employed for advanced newly developed control system. This control system enables to reduce standby electricity, automatic shutoff system for lightings and ventilation to contribute furthermore reduction of electricity.
Energy Regeneration System (Optional)
An energy regeneration devices feeds energy back to the power grid while the traction machine is under power generation to achieve high-efficiency energy utilization, which results in over 38% energy conservation (with the assumption of 1050kg, 1.75m/s, 12-hour operation per day, 25 days per month).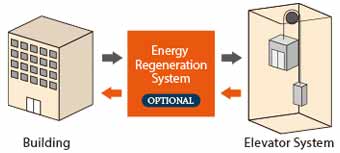 Environmental issues
In order to propose safe and secure elevator, ELCOSMO-? focus on environmental issue. The advance technologies for energy consumption and resource saving concept others high concerns for environmental consciousness.
Energy Saving
SPACEL--? employs a newly developed compact gearless PMSM motor which enables high energy efficiency. Furthermore, by using a gearless motor, gear oil is not needed, which contributes to saving natural resources.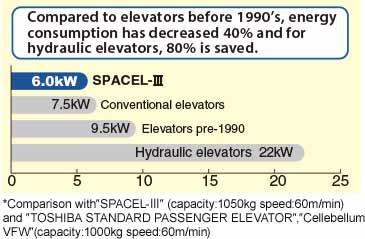 Energy Regeneration System
Under equal brightness, theoretically the LED lighting system only consumes 10% of an incandescent lamp and 50% of an fluorescent lamp.
The environment-friendly features of LED lighting include: 1) reduction of carbon dioxide and other wastes; 2) no hazardous heavy metals, such as mercury and lead; 3) no flashing, ultraviolet components and radiation pollution.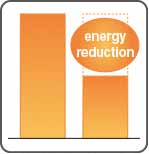 LED Lighting
Under equal brightness, an LED lighting system only consumes 10% of an incandescent lamp and 50% of an fluorescent lamp. (part of ceiling)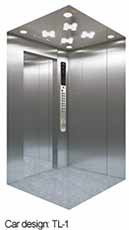 Resource Saving
Machine room less elevator
By eliminating machine room, various constructing procedure and materials will not be necessary.

Eliminating lubricant oil for guide rail By employing roller guide for both car and counter weight, lubricant oil will not be necessary which guide shoe required.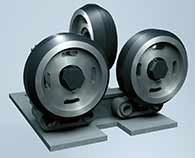 Reducing Hazardous Materials
Reduction of lead use
By changing method to tie rope, lead is not necessary in order to tie rope resulting to reduce lead use.

Employing LED lightings
By employing LED light, various materials used for light became mercury free.
Lead-free Design of Printed Circuit Boad, RoHS Compliance and Elimination of Specific Chemical Substances (15 Classifications)
Continuous concern on the RoHS compliance, eliminating 15 classifications of specific chemical substances, and using the lead-free technique for main circuit boards.
SPACEL-?, approved as Toshiba Group's "Excellent ECP" product0.
Toshiba Group seeks to create environmentally conscious products and for all the products created, we set a goal to develop No.1 environmentally suitable products. Within Toshiba group, we approve environmentally high potential products as "Excellent ECP" products and SPACEL-? has been approved as an "Excellent ECP".
New Ceiling Design
Wide variety of newly developed LED lighting available.*Note 1
*Development of environmentally conscious LED lighting.

LED lighting is mercury-free, energy-saving and long life.
The electric consumption fall about 85% and the product life time will be increased 20 times.
Therefore LED lighting reduces CO2 emissions.
Note 1: Applied in car design SL-V1, SL-V2, TL-1, DLX-21, DLX-22, DLX-23, DLX-24, DLX-25, PRM-1, PRM-2.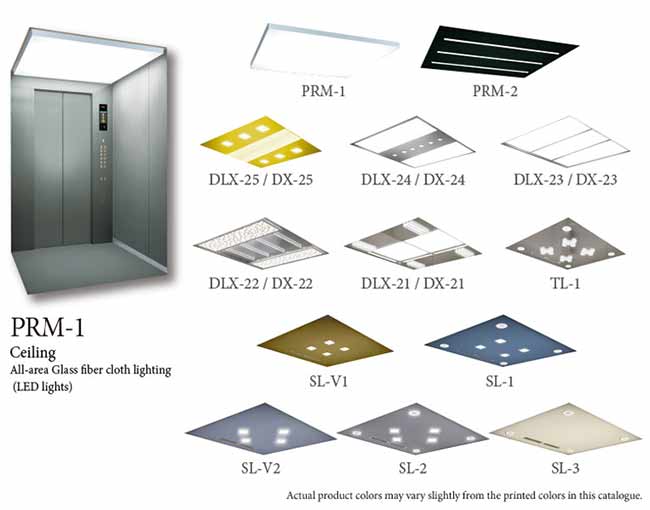 Hall Design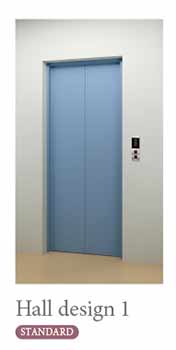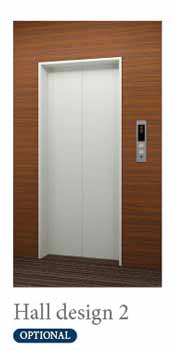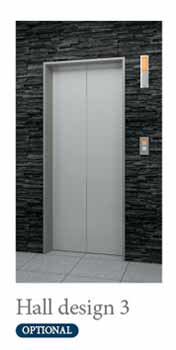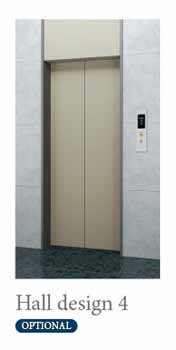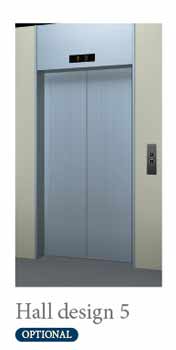 Note:
Provided hall design specifications with the wide type jamb and Transoms, when need to Fireproof specification adaped. Actual product colour may vary slightly from the printed colours in the catalogue.