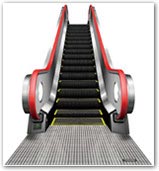 We are introducing our flagship product in the escalator segment it's the Kindmover , as the name suggests it also moves the people with its performance best suited for luxury class malls, shopping complex, commercial spaces and more. Toshiba brings in world class tested and proven innovative technology amongst the escalator companies in India. When it comes to escalator suppliers in India, there is no match to the quality and reliability in products that is offered by Toshiba. Years of trust, up to the minute technology and leading innovation is what makes Toshiba stand out as the finest escalator company in India.

Escalators are becoming the in trend when it comes to metropolitan cities of India. These cities are now joining the race of development of high-rise building, shopping malls, commercial complexes and the standard of living is ever increasing. Toshiba is introducing an escalator operation monitor for passenger friendly guidance which shows the moving direction of the escalator/ no entry indication and safety indications will be provided using the signage signals.

The specialty of the escalators designed by Toshiba is the design of the escalator which is so well thought out and planned keeping in mind the future needs, user friendliness and last but not the least the safety of the passengers. The several advantages of Toshiba elevators will make it easy for you to decide which escalator to zero down upon looking at the competition of the escalator market in India. We comply with all the safety norms and dedicate ourselves to provide our customers the best possible after sales service which is unmatchable and awarded the best.