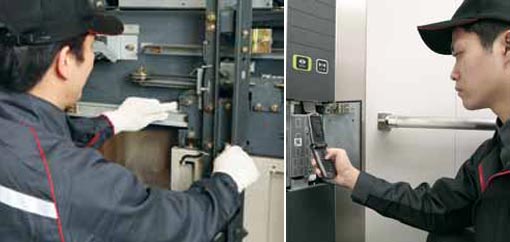 Monitoring safety and comfort
Regular maintenance is important for safe and comfortable elevator operation. In addition to our regularly scheduled maintenance programs, we provide monitoring and remote inspection services that ensure a rapid and appropriate response in the unlikely event of a malfunction, even when parts must be replaced.

Our Global Maintenance Support System [G.M.S.S.] is a unique concept designed to deliver efficient and rapid response for all field service operations. It aims to significantly reduce the response time from the instant a breakdown takes place in the elevator or escalator till the breakdown is actually attended by the route technician. In this process the breakdown call is directly routed to the concerned technician bypassing the time consumed in routing the call through centralized call centre. In order to familiarize our customers with maintenance concerns and make maintenance easier to understand, we have initiated our service for standard elevators, which provides maintenance plans tailored to customer needs. All of these ongoing programs and services are implemented with one goal and that is to ensure customer's satisfaction.